Scholastic Art & Writing Awards!
Mar 16, 2015
Scholastic Art & Writing Awards has just announced their National Winners and Finalists and I'm so pleased to say that several
Globaloria
students are 2015 winners for the Video Game Category! The Globaloria winners are Alexis Mondragon Martinez, Julio Anguiano, Marcelo Arpero and Isaac Shephard, who created the game, "All About The Solar System" in their Globaloria class at East Austin College Prep Academy (MLK) in Austin, TX and Edward Rinaldo from Herman Intermediate School, who created the game, "Quadractic Time".
Since 1923, the Scholastic Art & Writing Awards have recognized the vision, ingenuity, and talent of our nation's youth, and provided opportunities for creative teens to be celebrated. Each year, increasing numbers of teens participate in the program, and become a part of our community--young artists and writers, filmakers and photographers, poets, and sculptors, along with countless educators who support and encourage the creative process.I'm so proud of the accomplishments has made by learning computer science and expressing their creativity and skills through game design.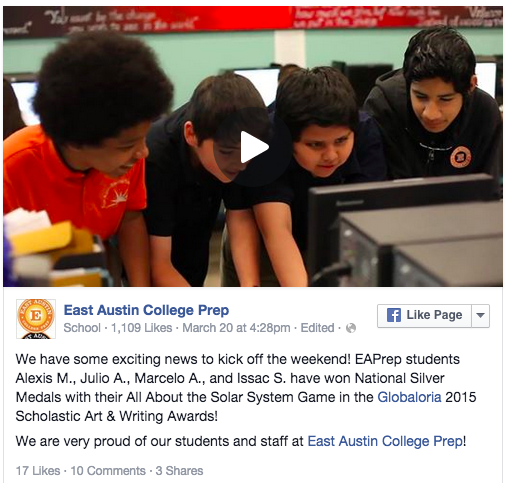 Comments are closed. Tweet your response:
Tags:
Awards
,
East Austin College Prep Academy
,
Globaloria
,
Scholastic
,
Scholastic Art & Writing Awards