Mar 17, 2015
Next up on my Austin agenda is SXSWInteractive – from March 13-17, 2015. The annual SXSWInteractive Festival is an incubator of cutting-edge technologies and digital creativity, featuring the best new websites, video games, and startup ideas the world has to offer. SXSWInteractive has definitely become the place to preview the technology ideas of the future and the people who invent and execute them well. This year, there was a special section on gaming and learning. I joined Erik Martin (U.S. Department of Education, Office of Educational Technology), Gary Hoover (CEO, Bigwig Games) and Lonny Stern (Senior Director of Business Development, Skillpoint Alliance) on stage for the panel, "Gaming in Education, Education in Gaming" to talk about the effects of adding game design and coding to schools' curriculum, and how it can be integrated into traditional and nontraditional educational settings. It was a great talk with fantastic feedback. My SXSWInteractive experience was enhanced especially by my colleagues at the M.I.T. Media Lab Lounge, featuring this year the theme of Synthetic Biology. Here are some tweets from my SXSWInteractive experience. Can't wait for next year.
Mar 16, 2015
Scholastic Art & Writing Awards has just announced their National Winners and Finalists and I'm so pleased to say that several Globaloria students are 2015 winners for the Video Game Category! The Globaloria winners are Alexis Mondragon Martinez, Julio Anguiano, Marcelo Arpero and Isaac Shephard, who created the game, "All About The Solar System" in their Globaloria class at East Austin College Prep Academy (MLK) in Austin, TX and Edward Rinaldo from Herman Intermediate School, who created the game, "Quadractic Time".

Since 1923, the Scholastic Art & Writing Awards have recognized the vision, ingenuity, and talent of our nation's youth, and provided opportunities for creative teens to be celebrated. Each year, increasing numbers of teens participate in the program, and become a part of our community–young artists and writers, filmakers and photographers, poets, and sculptors, along with countless educators who support and encourage the creative process.I'm so proud of the accomplishments has made by learning computer science and expressing their creativity and skills through game design.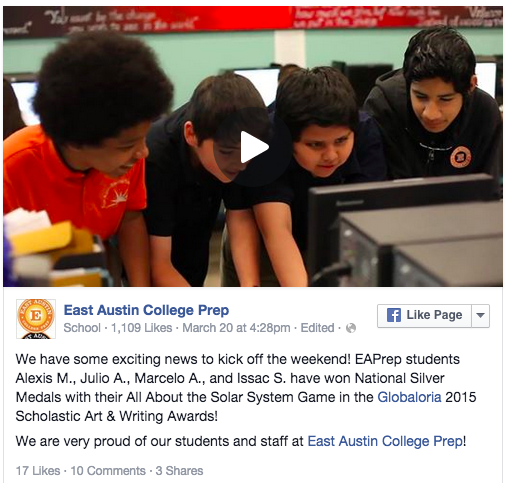 Mar 14, 2015
My company, Globaloria, co-sponsored the Austin Education Game Jam (March 7-14), a professional game development contest inspiring the creation of high quality and commercially viable video games for education. It was inspiring to see game developers make mobile and online games with education focus. This competition continues the White House Game Jam and President Obama's vision that education should be fun, interactive, and always evolving with students' needs. Scott Lipton (Network Director of South/Central, Globaloria) organized it in collaboration with Erik Martin (U.S. Department of Education, Office of Education Technology), Sean Duffy (Founder, EdTech Austin), Chelsea Biggerstaff (STEM Programs Coordinator, Skillpoint Alliance), Drew Scheberle (Senior Vice President, Austin Chamber of Commerce) and their fellow colleagues. The Austin Game Jam launch at Capital Factory. After a week, finalists and winners were announced at the Geek Stage of the Gaming Expo at SXSWInteractive. The Austin gaming community came together to participate in the development of new, high-quality games for education. Sharing events from the week that started at SXSWedu and ended at SXSWInteractive.